Moderator: Team VoerNatuurlijk
2 berichten • Pagina 1 van 1
Hello Ian,

Thanks for visiting here!

I have a question for you. How would you be feeding a dog with kidney problems? What kind of meat would be best? What about vegetables? What about fish? Are there any other things the owner would have to take in consideration?

Also, would you be feeding an older dog in another way than a young dog?


Thanks!

Miet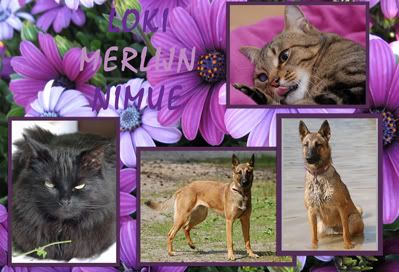 ---
Snuffelaar

Berichten: 15
Geregistreerd: do 19 feb, 2009 08:14
Hello Miet,
As you would already know, such dogs require a diet that is lower in protein and phosphorus than 'normal' diets and high in the water soluble vitamins – the B group and vitmin C. The best way to do this is to dilute out the protein with crushed raw vegetable material. Fish is a good high quality source of protein and if it is a cold water fish, it has the added advantage of being high in omega 3's, which help maintain kidney health. Feeding kidneys is also a good idea.
The following is a paper I give out to people who need information on kidney disease.
BARF diet for KIDNEY FAILURE.
© Ian Billinghurst
The information provided is for private use only, not for publication in any form
Making BARF Patties for Kidney failure
In Cases of severe kidney failure, three quarters of the mix should consist of raw crushed fruit and vegetables. For example you could pulp three kilos of vegetables such as carrots, celery, spinach, broccoli etc. and fruit such as apples, oranges, mangoes, apricots etc.
The other quarter [one kilogram] would consist of protein, things such as cottage cheese, raw meaty bones such as chicken wings or necks, raw lean ground [minced] - beef, chicken, lamb, pork, fish [whole] – preferably a mixture of all of these together. To this one Kg add small amounts of (raw) kidney, liver, green tripe and heart etc. The latter organ meat might consist of a further 250 gm of organ material. (or use any BARF patty by BARF Australia – "Dr. B's Genuine Aussie R.A.W." tm)
Where the kidney failure is only mild
[in the early stages] it is strongly recommended that the mix be more like fifty percent vegetables with the bulk of the remainder consisting of the protein source. Of the protein source it is strongly recommended that at least half of this mix consist of ground or minced chicken wings or necks - including the bone. Where there is advanced kidney failure, reduce the meat and bone proportion of the protein mix to a quarter.
To the 4 kg mix of minced meat and crushed vegetables (or any of the BARF patties) add 250 ml (one cup) of regular yoghurt – plain – with no added sugar, 4 raw egg yolks, (preferably free range), 4 dessertspoons of ground flax seed.
Daily additives include: B complex, vitamin C, vitamin E, digestive enzymes, fish oil, selenium,
In Dogs with Mild to Moderate Renal Disease
Feed a diet with ….
between 12% and 28% protein [Dry Matter Basis]
exact level dependent on
clinical and biochemical response - use highest amount consistent with BUN level being less than 60
In Dogs with Severe Renal Disease
protein may be down to between 10% and 15%
Final Practical Feeding Tips
Feed highest protein that maintains BUN less than 60
Feed high biological value/digestible protein
Dilute the protein with low glycemic green/colored leafy vegetables
Endeavour to feed this way at every meal
Use kidneys and cottage cheese (low fat/low salt) as one protein source
Copyright © Ian Billinghurst.
Feeding the old dog vs feeding the young dog question:
There is no question that old dogs, particularly old dogs with degenerative disease processes, require to be fed differently to young dogs. In general, older dogs require less bones, less fatty food, and more fruit and vegetables and more omega 3 rich foods compared to younger dogs.
Note that with healthy old dogs that have been fed an evolutionary diet all their lives, it may not be necessary to make any adjustments until they are well into old age. This is because there can be a vast difference between biological age and chronological age, depending on how a dog has been maintained throughout its life. A dog can be old in years, but young biologically speaking and vice versa. That is, some dogs are healthy old dogs (because they have both good genes and good diet), while others have aged and deteriorated badly – mostly due to poor diet – and therefore have numerous health problems.
Specific health problems require specific adjustments to the basic evolutionary diet – for example, the kidney diet as outlined above.
To outline all the differences required for all the possible disease processes an older dog may be suffering is obviously too big a question for the short time and space we have available in this forum.
Cheers,
Ian
---
2 berichten • Pagina 1 van 1
Keer terug naar Gastschrijver Ian Billinghurst (2009)
Wie is er online
Gebruikers op dit forum: Geen geregistreerde gebruikers en 1 gast